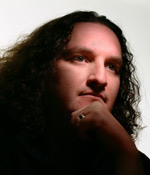 Photo by Michael Schoenfeld
Hi, my name is Matthew Loel T. Hepworth. The phrase, "owner's manuals suck" is something I hear practically every day. For the past 16 years, I've been a salesman, teacher, performer, manufacturer's representative, and clinician for high-tech music products. I work with every brand of popular MIDI keyboards, peripherals, and software. And one thing I can tell you is that the owner's manuals leave much to be desired. If you've found this web site, I'm sure you'll agree.
I've found that it's easier to see how it's done, rather than read about it. That's why I started MIDI Assist. I can show you how to use your gear so you get the most for your money, and in the least amount of time. I come to your home, studio, or performance venue. Plus, my work is guaranteed. If I can't figure out your system, I won't charge you.
So stop pulling your hair out. Feel free to contact me for questions or to make an appointment. You'll rediscover the reason you bought that gear in the first place.